Today I'm really excited to bring to you a recent opportunity I had to shoot for Food & Wine Magazine. The team at F & W was working on an article about aunties. The women who keep the family recipes and bring the family together around the table. The magazine was hiring photographers from seven different locations around the country to document these women making the recipes they are known for.
I was lucky enough to be assigned Georgia. She is the sweetest woman ever residing outside of Atlanta known for her famous Korean fried chicken recipe. Her nephew, Eric Kim, is a food writer from New York who penned the article. He was also present at the shoot that day. Meeting and working with him was a joy.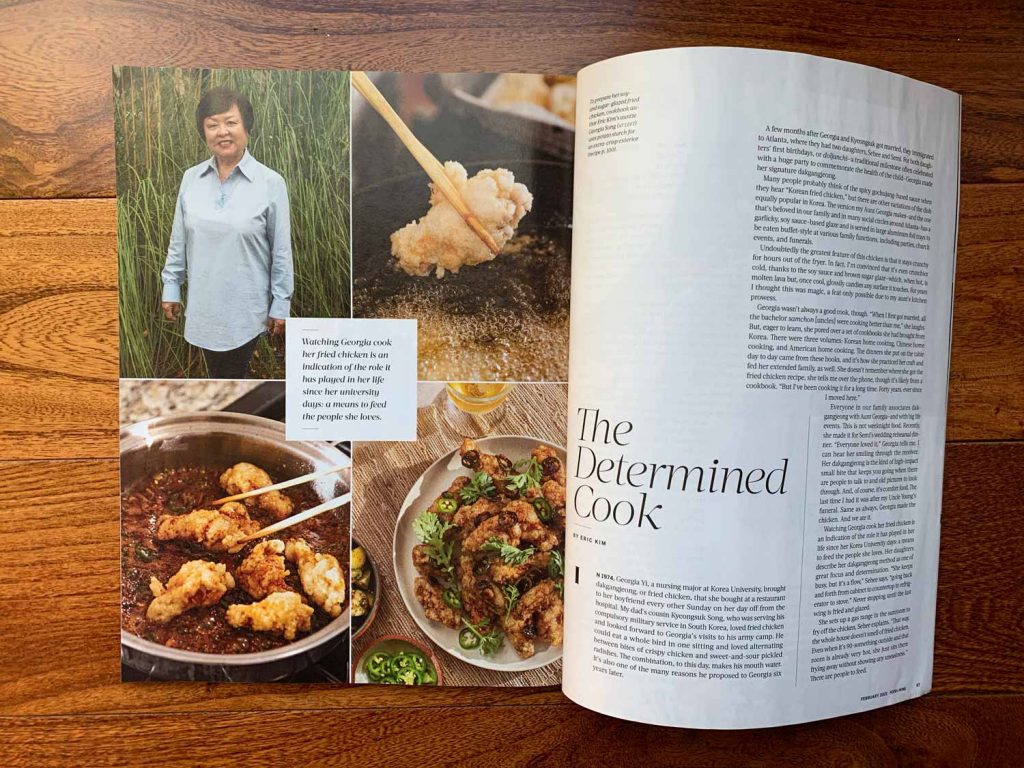 On the day of this shoot we got to watch Georgia do her thing in the kitchen. We documented the process so that the magazine could show readers how the recipe is made. We also snagged some portraits of Georgia and Eric outside in Georgia's beautiful garden. 
After we were all done, Georgia let us a sample some of her work. I can attest to this stuff is amazing! The chicken is double fried in potato starch giving it a very light and crispy crunch, and after frying, it is rolled in a sweet sauce that when cooked becomes candied. The result is a salty sweet crunchy finish that is truly addicting.
The February issue of Food & Wine contains the images we captured that day, and fortunately for all of us, it also contains Georgia's chicken recipe. Check it out on newsstands now. A big thank you to Georgia for sharing her kitchen and her recipe with us, please give the recipe a whirl and let me know how it goes!